Nitrous oxide has a reputation for being dangerous or simply being a cheater's tuning option. When set up carelessly it certainly can be deadly. When done right it can be just as dangerous to the competition. Additionally, no more stress should be imposed on the engine than from other means of forced induction like turbos or superchargers. Use a brief puff just to spool a big turbo or to make a peaky all-motor set up leap from the starting line. The options are up to one's imagination and USRT is here to help. Our tuning philosophy dictates building reliable street and racecars and these nitrous systems will be configured with that in mind.
Look forward to some advanced nitrous oxide options from USRT over time. We're not tied to any specific vendors and may elect to mix/match components as we see fit.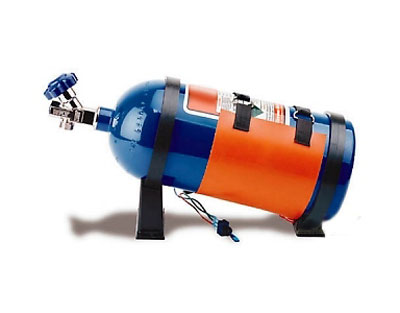 Special note: Those running standalone ECUs are especially ready to enjoy the happy gas. Use the dual fuel and ignition map features to your advantage. One map can be set up for "regular" operation and the other to support nitrous oxide injection. The nitrous solenoid circuit can automatically trigger the switchover for the ultimate dry set up. Use a small short duration puff to spool a big turbo!